We are now only 82 days away from kickoff!  We missed #83 over the weekend, so we will cover both #83 and #82 in today's post.
Who Wears #83 Now
Ryan Burke, WR, Redshirt Junior
In 2014, Ryan Burke saw limited playing time at the wide receiver position.  He had 14 receptions for 182 yards total with 2 touchdowns.  As a junior, Ryan is one of 19 wide receivers looking for a starting spot in Stitt's vamped-up offense.
High School:  He was moved from wide receiver to quarterback his senior season at Central Catholic High School, when he passed for 1,474 yards and 18 touchdowns while leading his team to its fifth straight State A championship game. He also rushed for 704 yards and eight TDs his senior season. His junior year he caught 48 passes for 677 yards and six TDs. His prep football coach was Jim Stanton. He earned 10 letters: four in football and basketball, and two each in track and tennis. He was a two-time all-state pick in both football and basketball. He played in the East-West Shrine Game and was the MVP of the Montana-Dakota All-Star Game. He is the sixth prep in Montana history to play in three major all-star games (two in football and one in basketball). He was a team captain in hoops and in football.
Hometown: Billings, MT
Personal: He is a business administration major.  His parents are John and Stella Burke of Billings. His cousin is former Griz linebacker Dan Orizotti, a member of UM's 2001 national championship team.
Saving Lives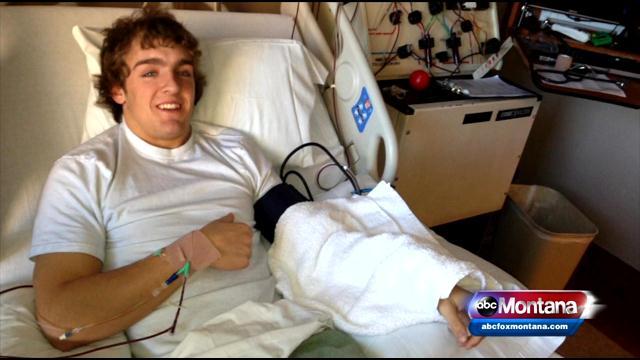 In December of 2013, Ryan Burke donated bone marrow to a cancer patient who was an exact match.  Burke was motivated by Villanova Wildcats running back Matt Szczur, who also donated bone marrow to a cancer patient.  You might remember Matt Szczur from the 2009 National Championship game where Matt absolutely thrashed Montana's defense on the ground.
---
Who Wears #82 Now
Riley Neville, WR, Sophomore
Ryan initially pursued the opportunity to play football in college, but a knee injury his senior year of high school kept him off the football field.  He was then recruited by Montana to compete on the Track and Field team as a pole vaulter.  Now it looks like Neville has walked onto the football team and is also one of the 19 wide receivers on the spring ball roster.
Hometown: Yerington, NV
Personal: Undeclared major at the moment.  The son of Cody and Becky Neville.